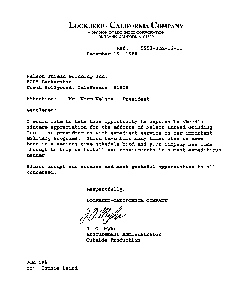 Attention: Mr. Norm Nelson, President
I would like to take this opportunity to express Lockheed's sincere appreciation for the efforts of Nelson Thread Grinding Inc. in providing us with expedient service on our important Military Programs. There have been many times when we have been in a serious time schedule bind and your company has come through to help us fulfill our requirements in a most expeditious manner.
Please accept our sincere and most grateful appreciation to all concerned.
Respectfully,
LOCKHEED-CALIFORNIA COMPANY
J. O. Myhr
Procurement Administrator Outside Production